Homemade minestrone soup is a simple recipe full of fresh vegetables and pasta noodles. It comes together quick and can be easily customized to what you have on hand. You are going to love this easy minestrone soup recipe! Let me show you how to make it today.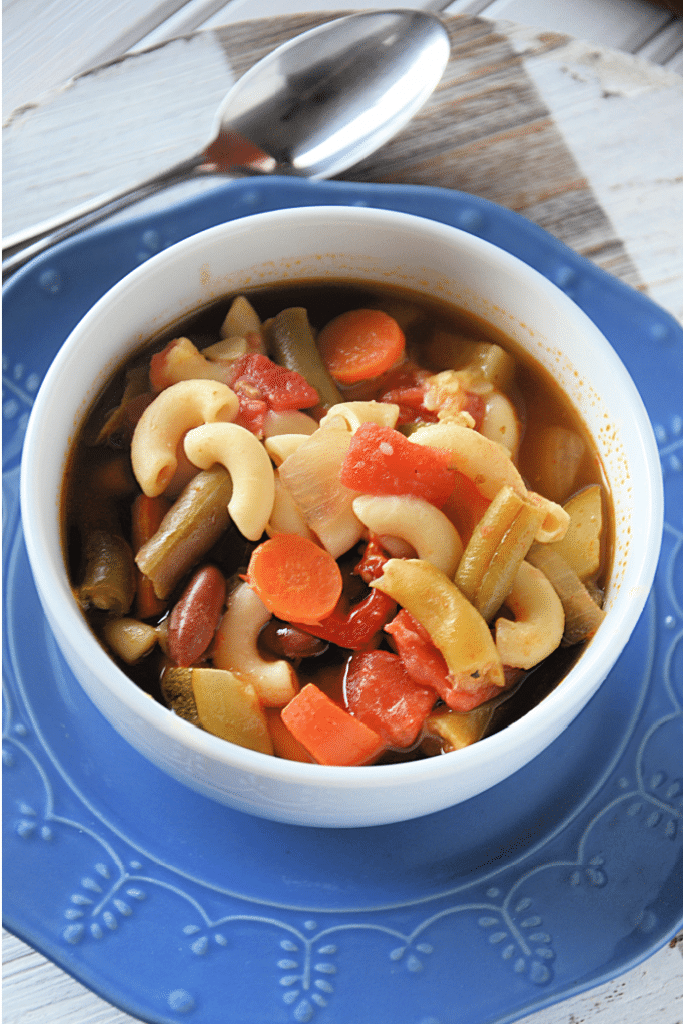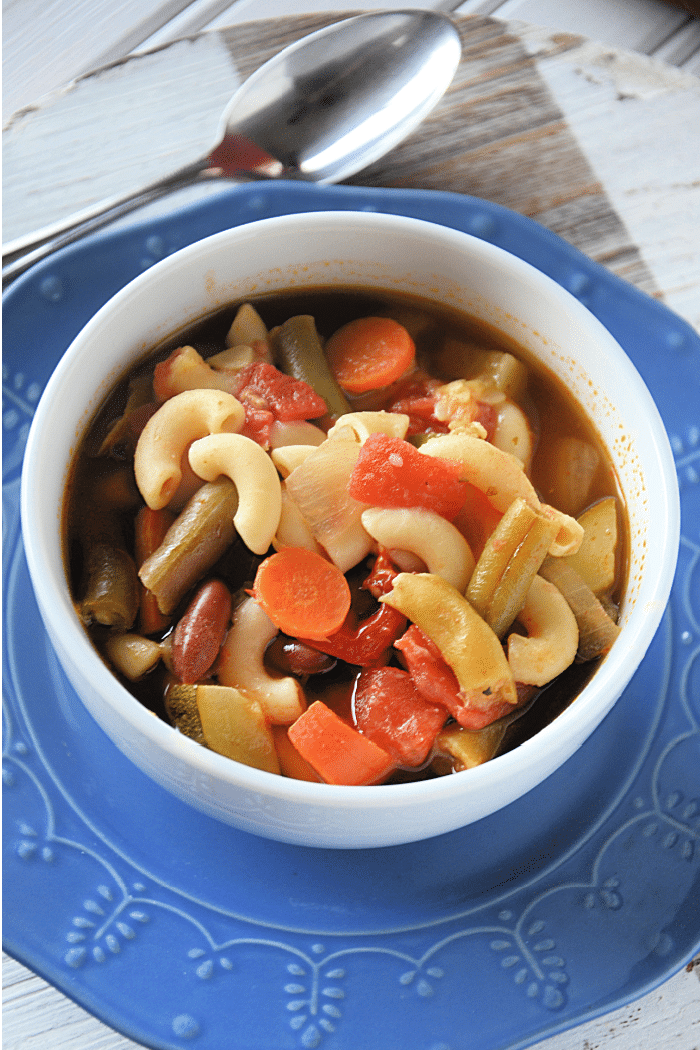 Have you ever had the minestrone soup from Olive Garden before? It's pretty tasty! I love all the vegetables and pasta noodles. Plus the fun addition of the beans. You know what's even better than Olive Garden minestrone soup? Easy homemade minestrone that used fresh vegetables that you can make anytime!
Seriously this soup comes together so quick that you will be slurping noodles before you can say amore!
What is minestrone soup?
Minestrone is a thick vegetable soup that is made with a plethora of fresh or frozen veggies, broth, beans and pasta. It is seasoned with Italian inspired spices and set to simmer on the stove top. The pasta cooks along with the vegetables and results in a hearty meal that warms the belly.
Minestrone soup ingredients
Remember I said this soup was customizable? The ingredients I used are among the "classic" or traditional ones, but feel free to adjust to your taste or whatever produce you have on hand!
Onion
Celery
Carrots
Zucchini
Green beans
Diced tomatoes
Beans
Vegetable broth
Elbow noodles
Italian seasoning
Salt and pepper
Butter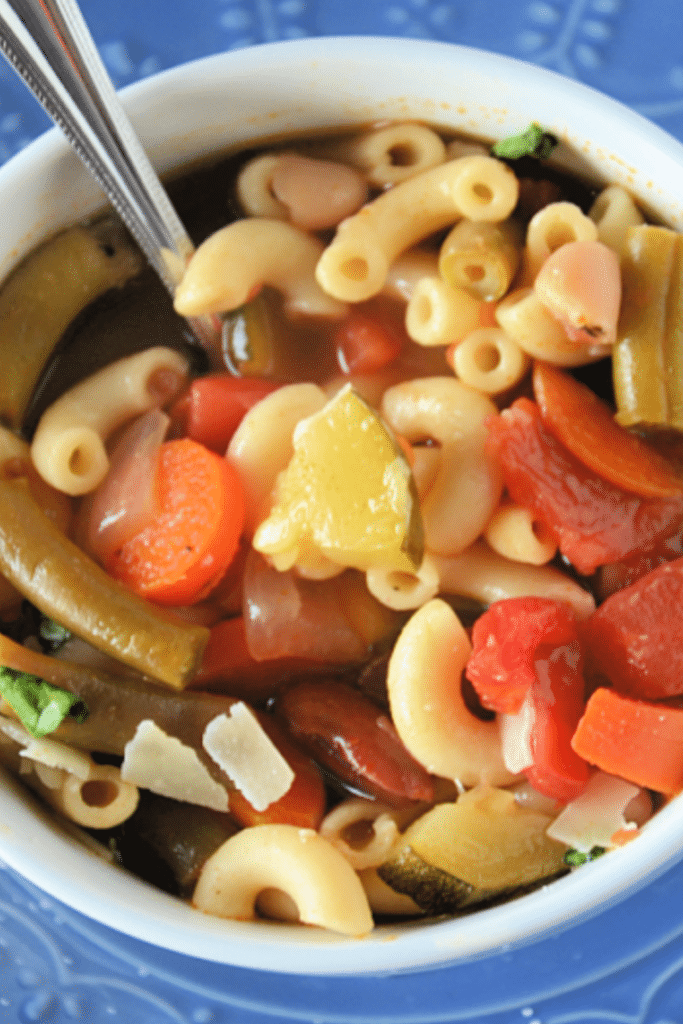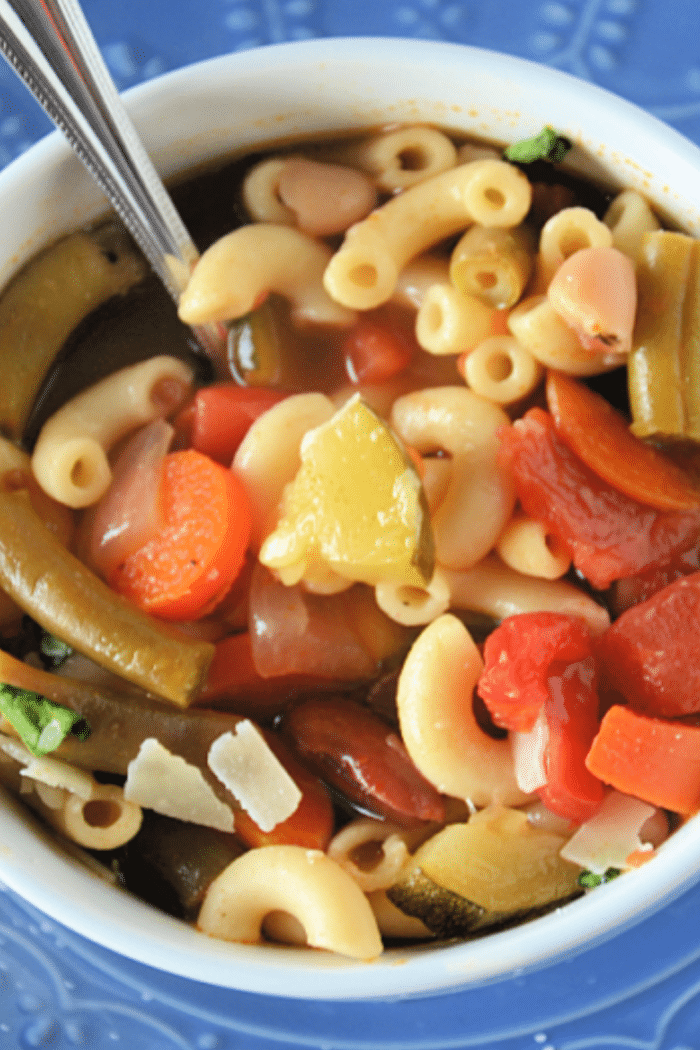 Vegetables – The wonderful thing about this soup is that you can use pretty much any vegetables that you'd like. Some of the more "classic" veggies are zucchini, tomatoes and green beans. Fresh or frozen vegetables work in this recipe as well!
Canned goods – Some of the canned goods that you need for this recipe are red kidney beans, diced tomatoes and broth. Sometimes I add a can of red and white kidney beans to my minestrone.
Broth – Vegetable broth is the most common broth used here but you can also use chicken. Beef would give it a different flavor but can be used in a pinch.
Pasta – You need a smaller pasta noodle for this easy minestrone soup. Elbows, ditalini, orecchette or even orzo are great options.
Spices – If you use an Italian seasoning blend, you need need many other spices. Bay leaves can be added and I always adjust with salt and pepper at the end.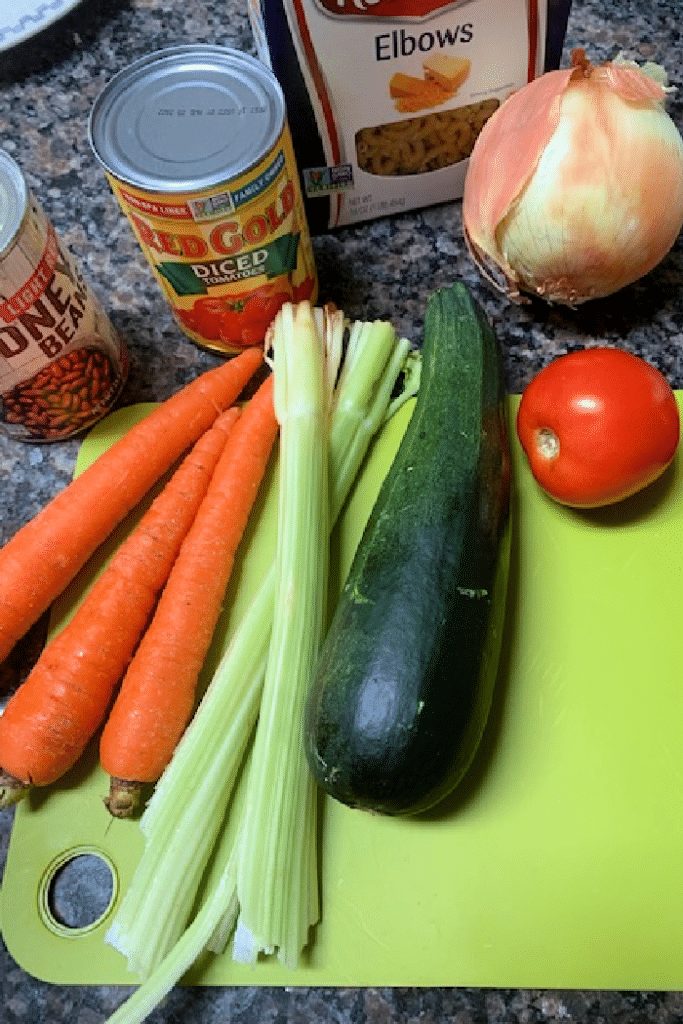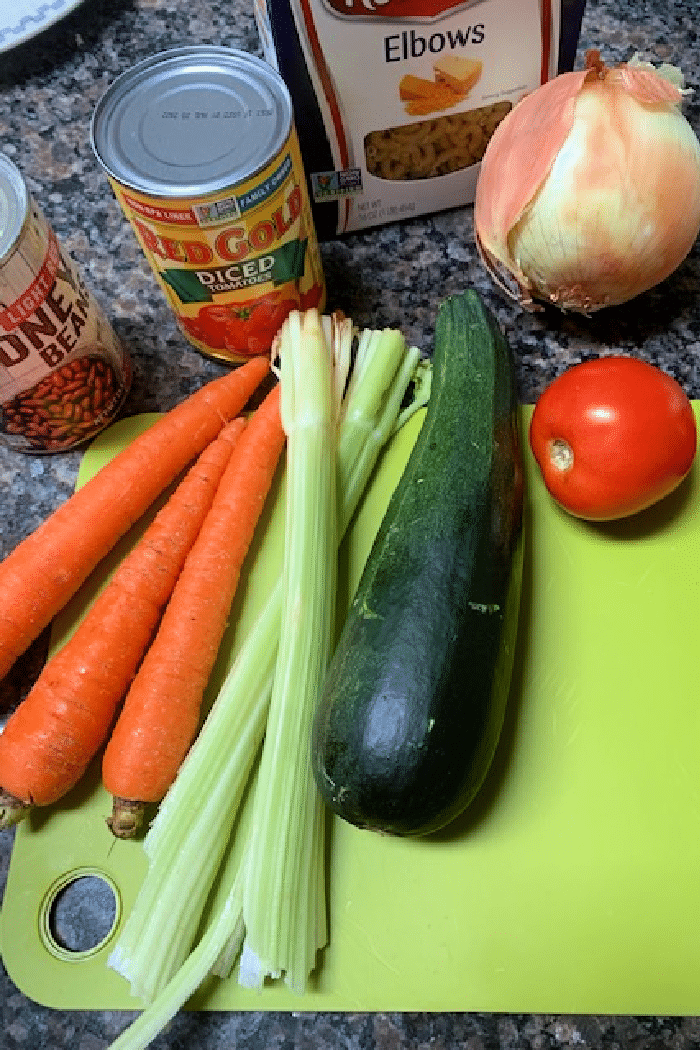 How to make quick and easy minestrone soup
Once you have all your ingredients gathered you will also need to grab:
a large pot or Dutch oven
spatula or large spoon
cutting board and knife
Step 1 – Dice your carrots, onion and celery and add them along with the butter to your heated pot. Allow to cook, stirring occasionally, for about 10 minutes.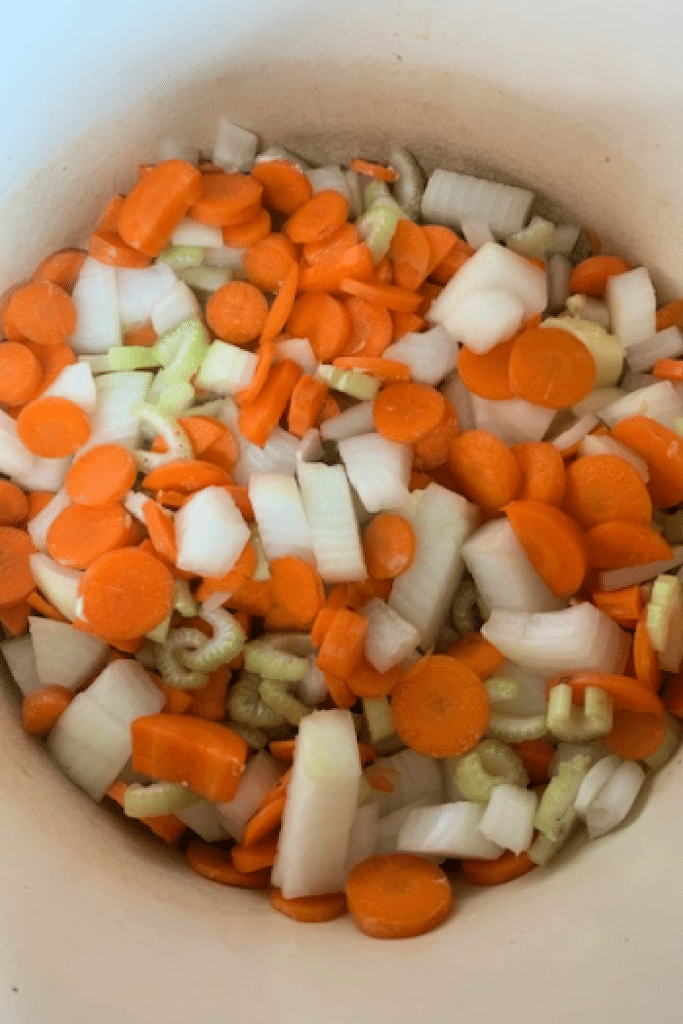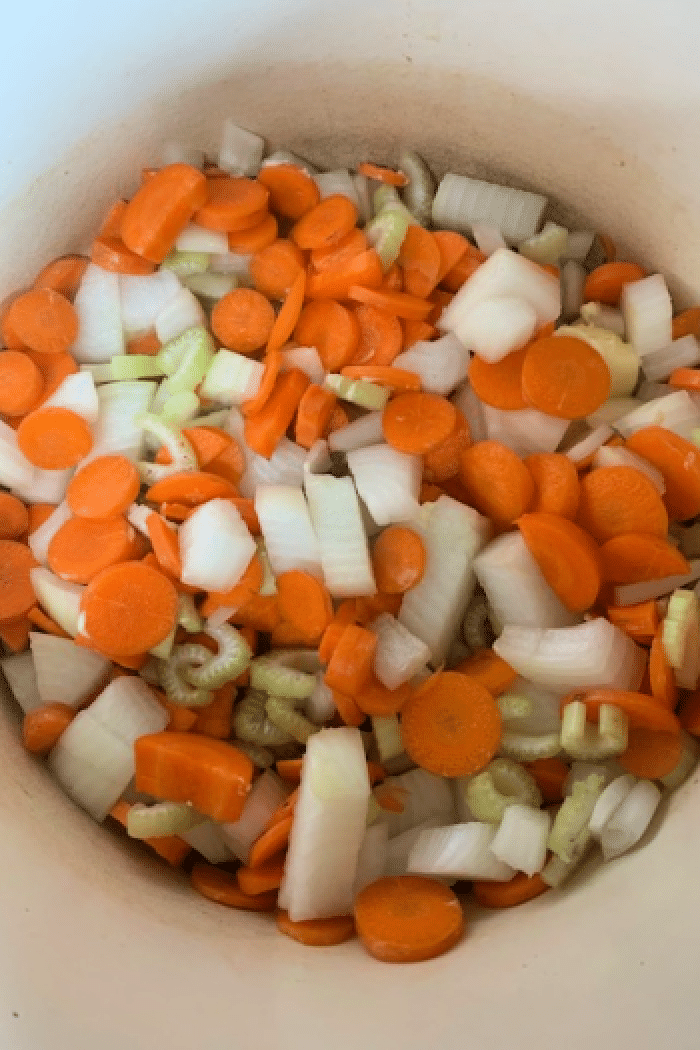 Step 2 – Pour in your broth and scrap the bottom of the pot to release any bits. Add in your spices and stir.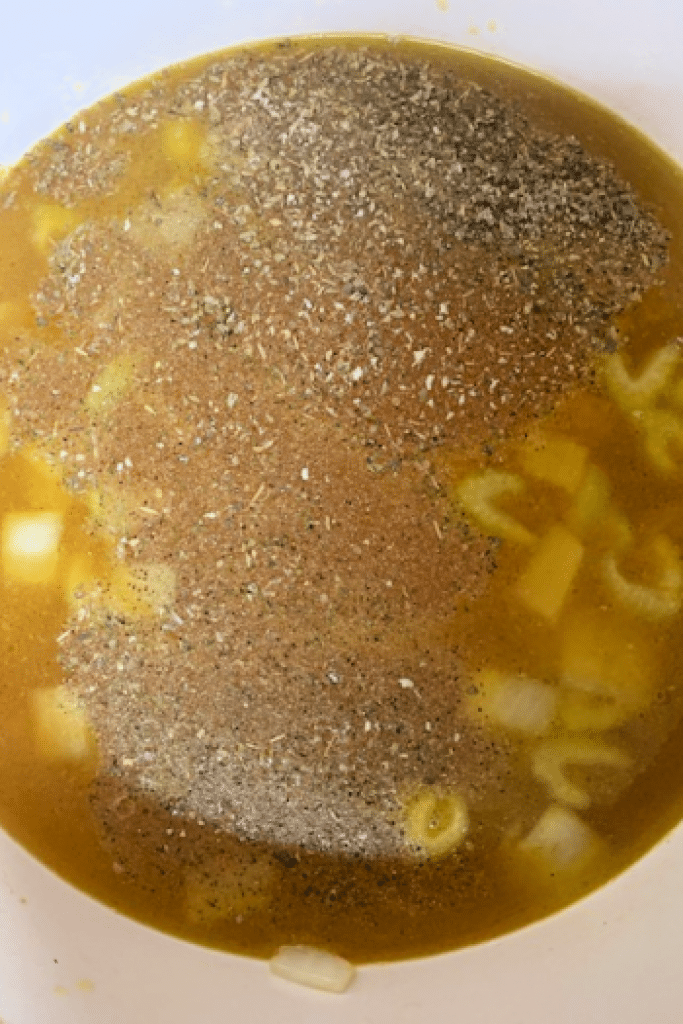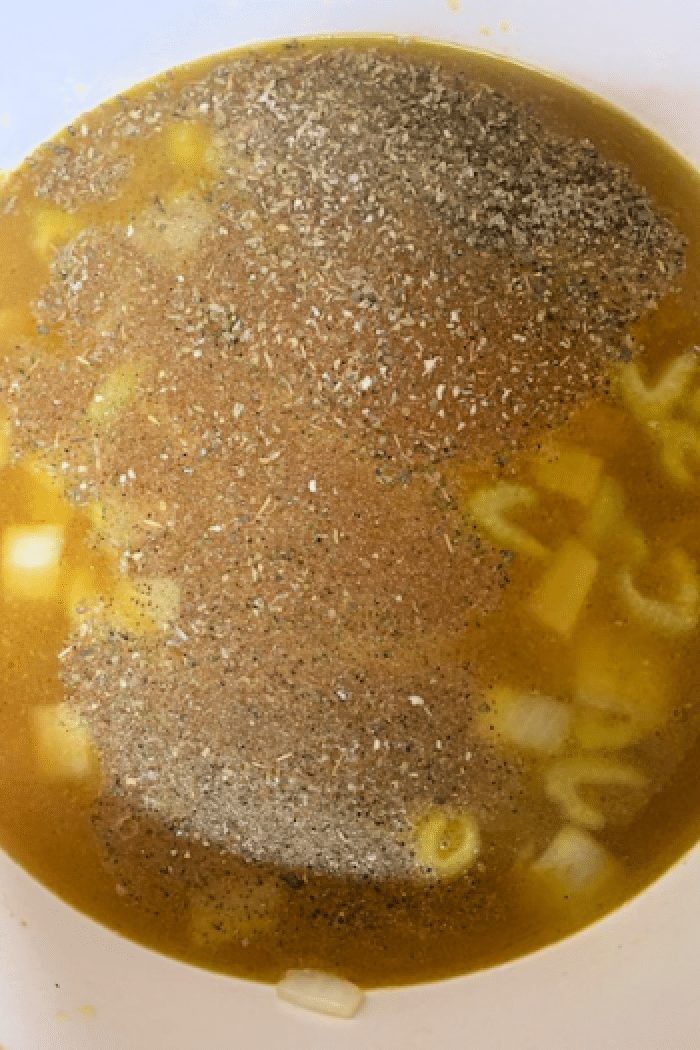 Step 3 – Add in your vegetables and beans. Bring to a simmer and allow to cook for about 20 minutes to soften the vegetables.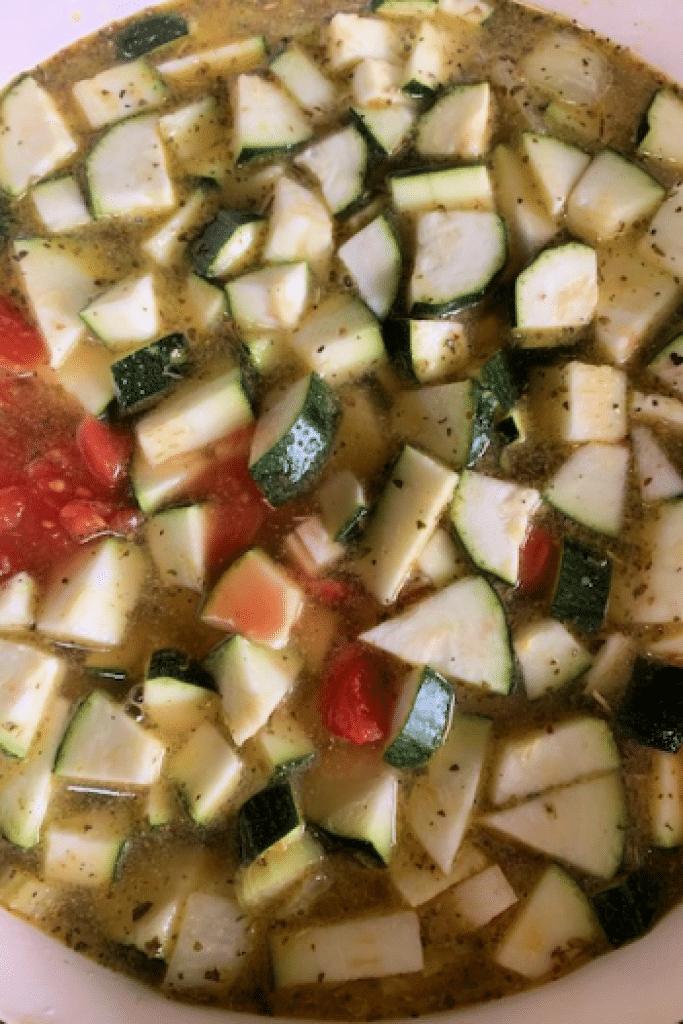 Step 4 – Add the pasta, stir, bring back to a simmer and allow to cook until the pasta is al dente, about 8 minutes.
Step 5 – Remove from heat, serve with sliced Parmesan cheese and enjoy!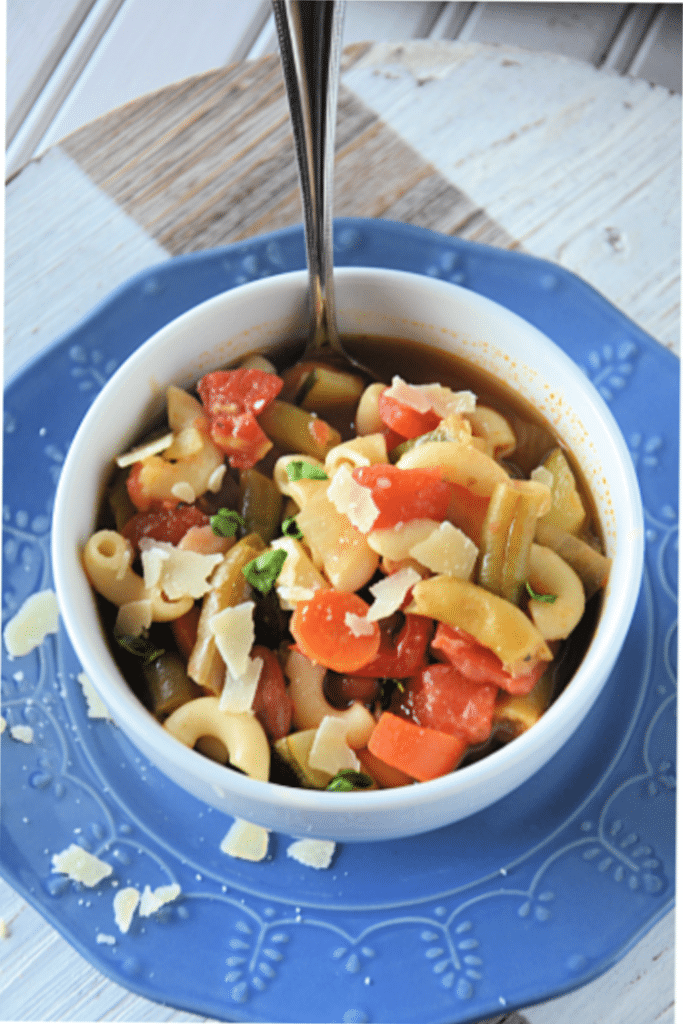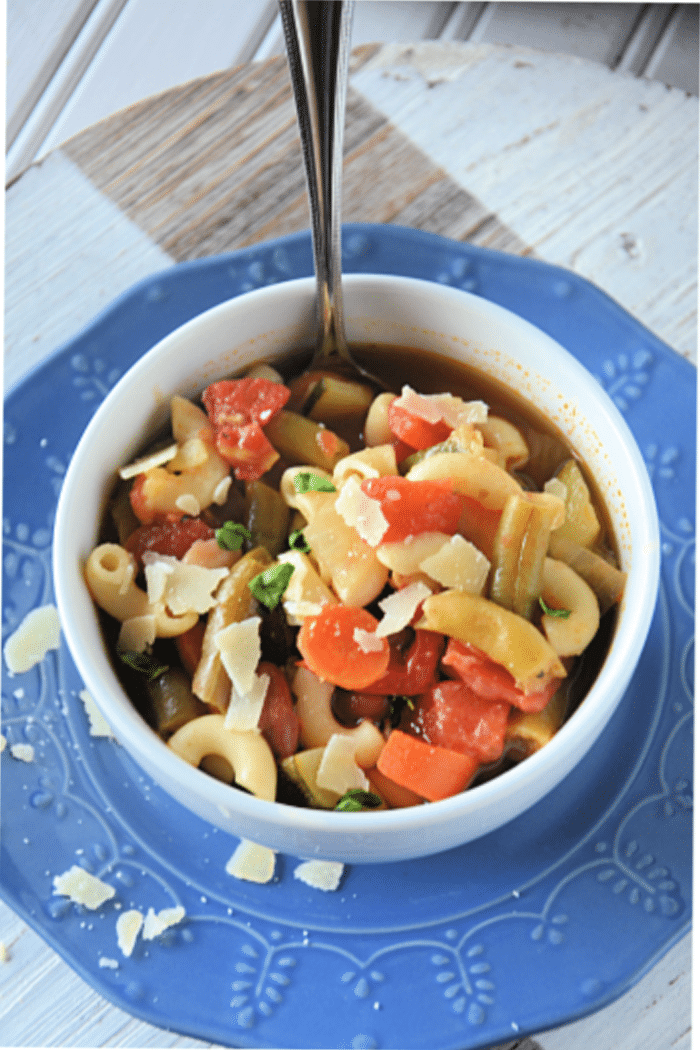 How to make minestrone in the Instant Pot
Looking to make this easy minestrone recipe even faster? Try it in the Instant Pot! You can find the full Instant Pot Minestrone recipe here. It's easy and starts with sauteing your onion, carrots and celery followed by adding everything but your beans and zucchini to the Instant Pot. Pressure cook for 2 minutes and add your remaining ingredients.
Crock Pot minestrone recipe
You can also make this easy minestrone recipe in your crock pot or slow cooker! Add most of your ingredients to your slow cooker and cook on low for 6-8 hours or high for 3-4 hours. Thirty minutes before eating, add your pasta and softer vegetables. You can get the full crock pot minestrone recipe here.
Sides that's go with easy minestrone
This soup is a hearty meal by itself but you can always add a side to round it out. My favorites sides are:
How to store leftovers
The best way to store this easy minestrone soup is to place it in an airtight container in the fridge. A Tupperware will work or if you have a lid for the pot you used, that's good too. The soup will keep for about 5 days in the fridge.
Can I freeze it?
You can! Place cooled soup in a Ziplock baggy and lay flat in the freezer. It should keep for up to 3 months in the freezer. To re-heat – remove from freezer and allow to thaw in the fridge. Warm in the microwave or the stove top.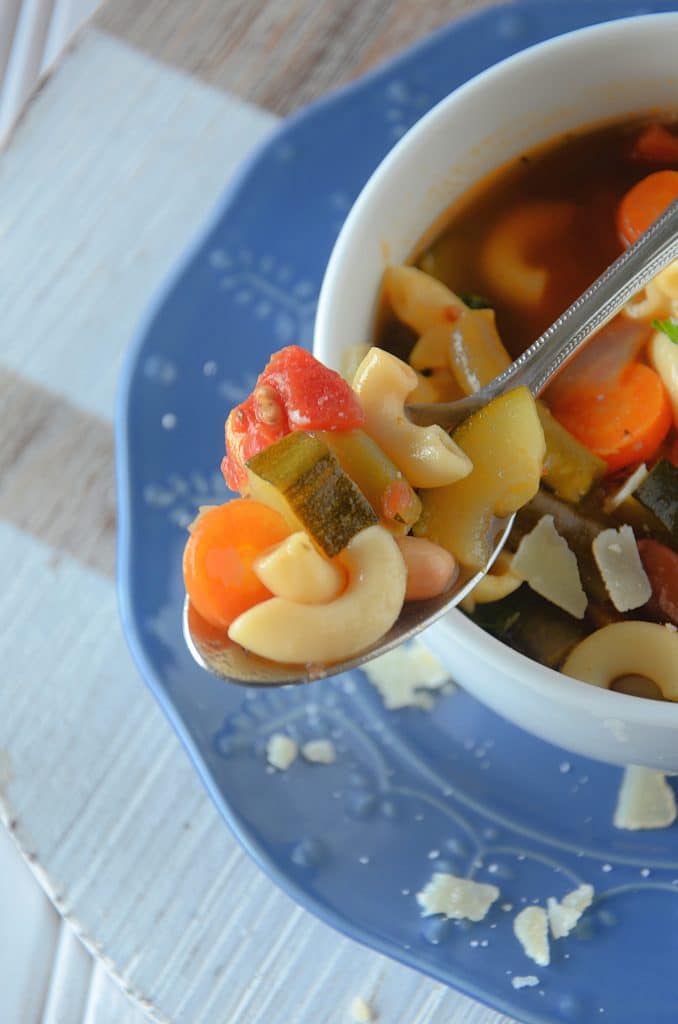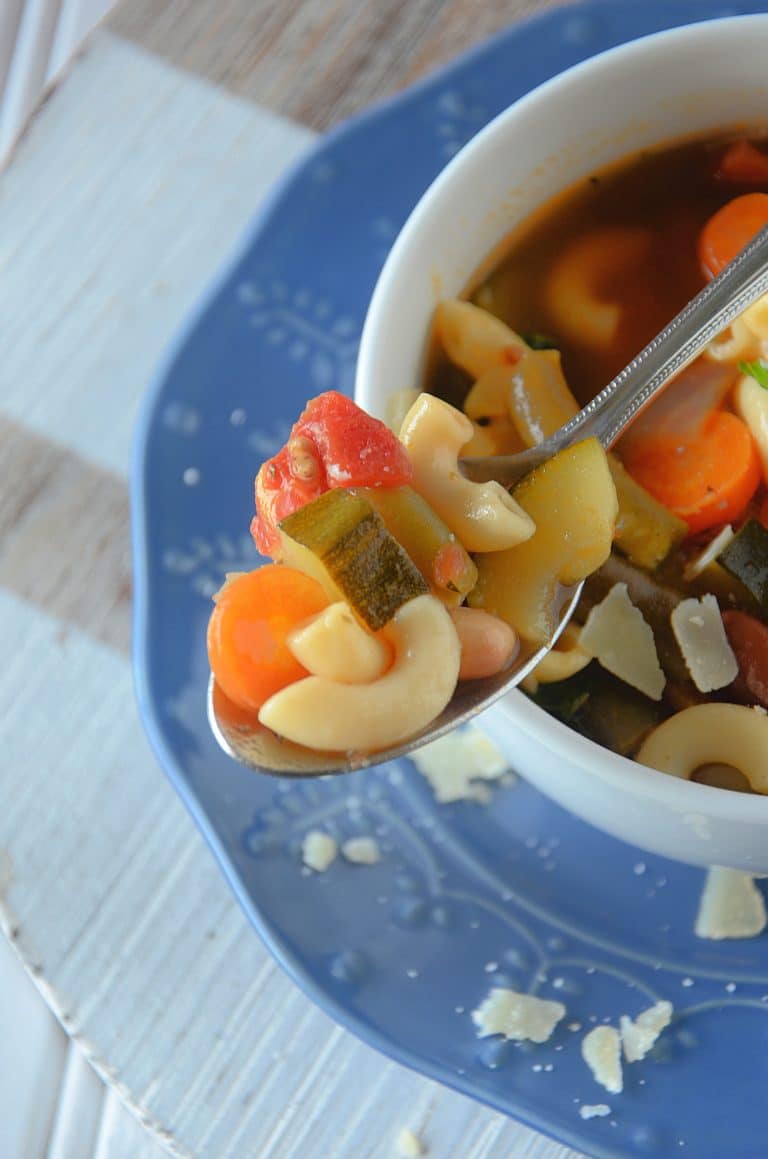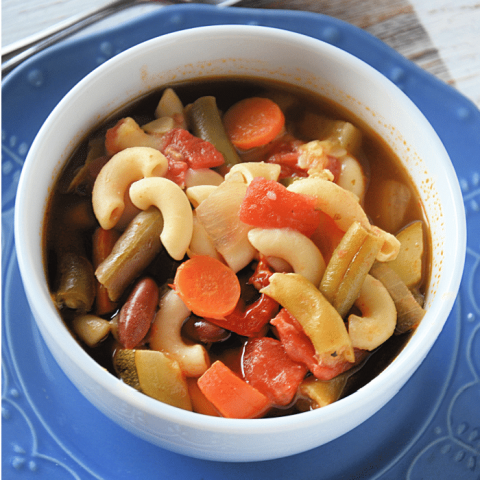 Easy Minestrone Soup
Easy stove top minestrone recipe that is full of fresh veggies, pasta and savory broth.
Ingredients
2 tablespoons butter
1 onion, diced
4 cloves of garlic, minced
2 stalks of celery, sliced thin
2 large carrots, sliced thin
6 cups vegetable broth
2 teaspoons Italian seasoning
2 14 oz cans diced tomatoes
1 15 oz can kidney beans
2 medium zucchini, diced
1 cup fresh or frozen green beans
1 cup elbow macaroni
salt and pepper, to taste
Parmesan cheese for topping
Instructions
Add the butter, onion, garlic, celery and carrots to a heavy bottomed pot over medium heat. Saute until the onions are translucent, about 6 minutes.
Stir in the vegetable broth, scraping the bottom of the pan to release any bits stuck to the bottom. Add your spices and stir to combine.
Add in the kidney beans, diced tomatoes, green beans and zucchini. Bring to a simmer and allow to cook for 20 minutes.
Once the zucchini has softened, add in the elbow noodles and cook until al dente, about 8 minutes.
Remove from heat, allow to cool slightly, top with Parmesan cheese and enjoy!
Nutrition Information:
Yield:

12
Serving Size:

1
Amount Per Serving:
Calories:

115
Total Fat:

3g
Saturated Fat:

1g
Trans Fat:

0g
Unsaturated Fat:

1g
Cholesterol:

5mg
Sodium:

552mg
Carbohydrates:

18g
Fiber:

5g
Sugar:

6g
Protein:

5g
Want to save this recipe for later? Pin it to your favorite soup board!