Fire up your crock pot with these easy and delicious nachos!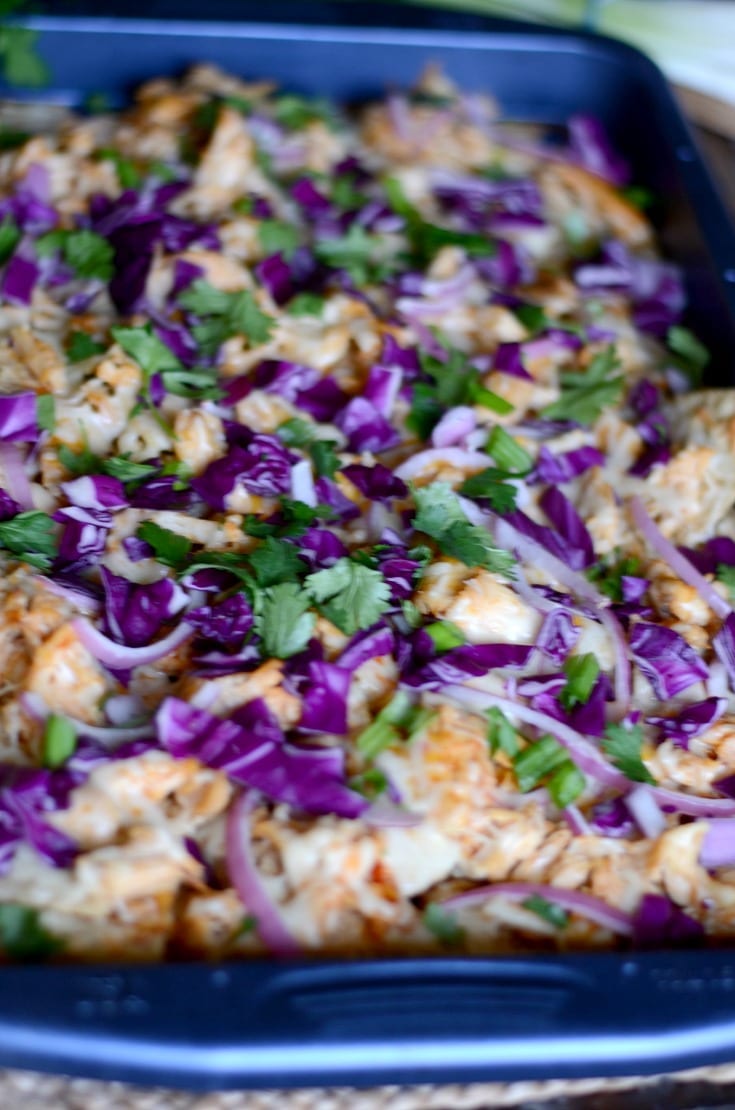 Hey friend! I'm not sure if I mentioned it but a few months ago I went to Las Vegas for a blogging retreat. It was a small group of bloggers and we got together to talk about all things blogging. (Which I am super nerdy about, by the way.) It was a lot of fun even though I was six months pregnant at the time. Being tht pregnant and waddling around Vegas still makes me laugh.
I got to meet some amazing bloggers while on the trip. My roommates name is also Kelly and she has a blog called life made sweeter. Yall, I have never met a more kindhearted person in my whole entire life. Kelly was so sweet outgoing and such an authentic person. She mentioned it a few times that she had a cookbook coming out in the fall and I have been waiting for it ever since.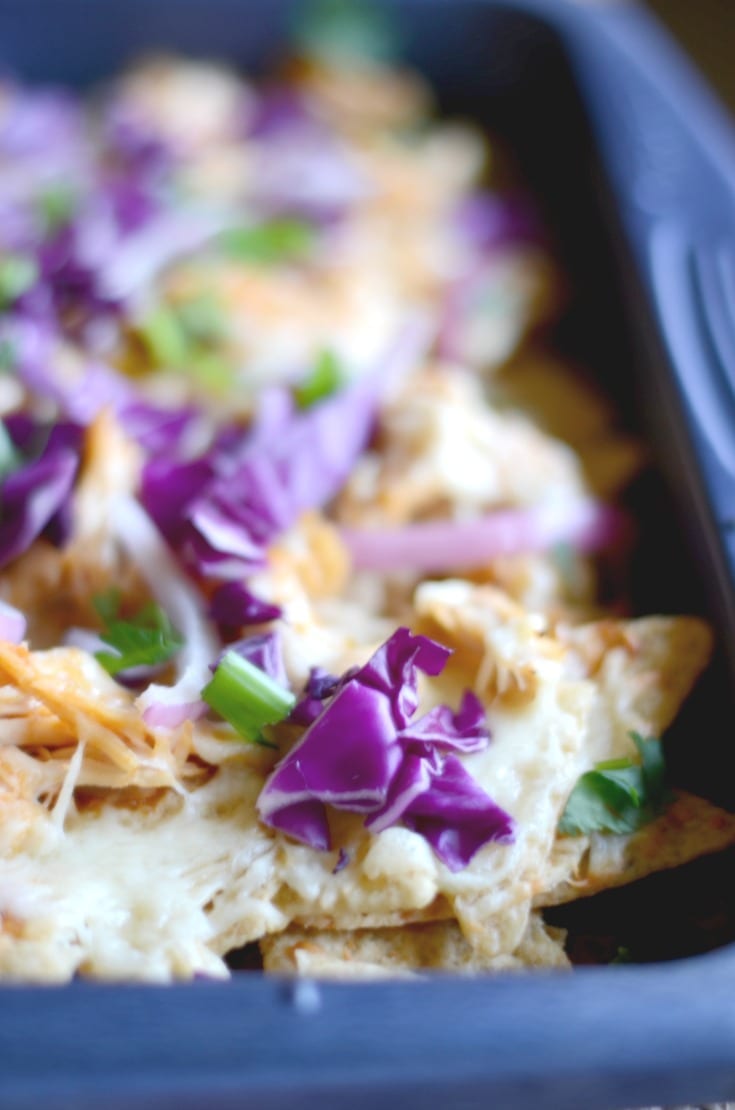 Her cookbook has finally released and it's called the Asian Slow Cooker. I was fortunate to be able to review the book in advance and let me tell y'all, everything in that book looks amazing. Every.single.recipe. Ryon spent three years over in Japan while he was in the Navy and loves authentic Japanese food. When he was flipping through the book he just kept telling me stories that I had never heard before. The things he had done and seen an even eaten while he was over Japan. It's funny that one cookbook can bring back so many memories
I decided to make the firecracker chicken nachos so I put everything in the crockpot and made the firecracker sauce that goes on top of it and t I left it there to cook all day. (Don't you just easy set it and forget it meals?!). I came home to my house smelling amazing! So so good yall.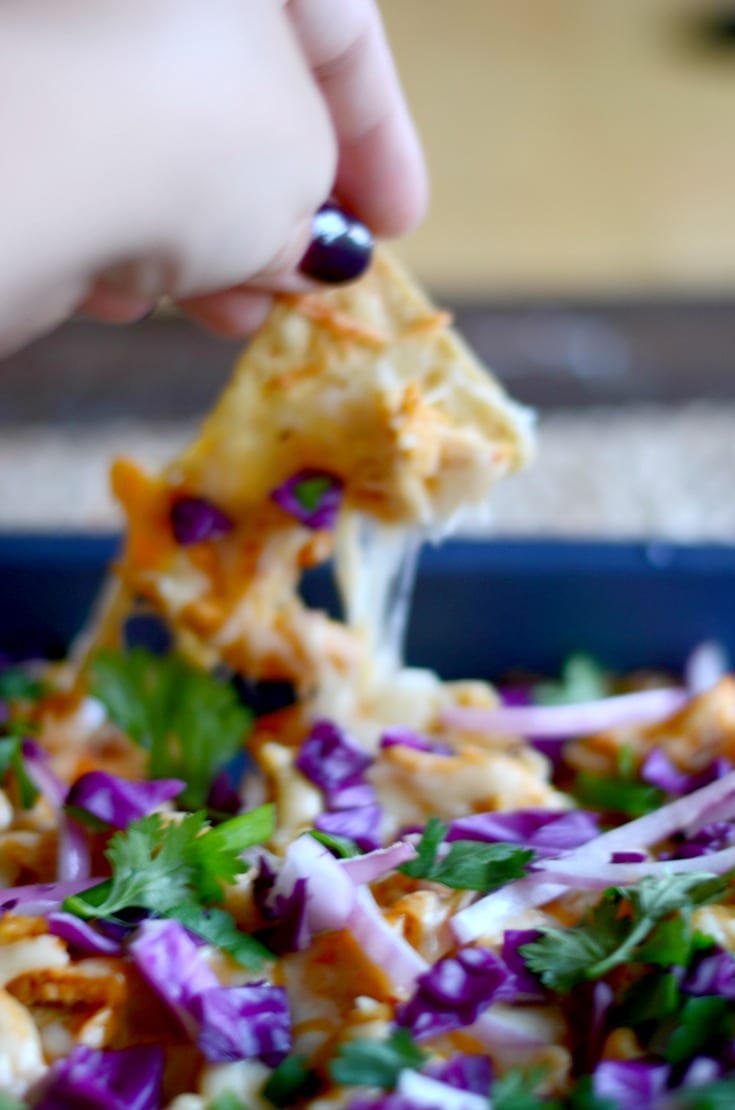 It was a cool night so we were able to eat the nachos out on our back patio. Ryon and I sat next to each other and I ate straight off of the cookie sheet. He could not get over how amazing the sauce for the chicken turned out. When it came time to clean up I said "there's extra sauce what do you want me to do with it?" and he almost yelled at me "keep it!" He didn't want any of the delicious sauce going to waste. I packed it up in a Tupperware along with a little bit of extra chicken and sent it with him for lunch the next day.
Yall. Let me tell you that not only is Kelly in amazing person but her cookbook is the real deal. The bees knees. The bomb dot com. (You can buy it on Amazon here or check Barnes and Noble near you!) She also has a giveaway going along with her book launch for some amazing prizes. Scroll down below after the recipe and enter the giveaway.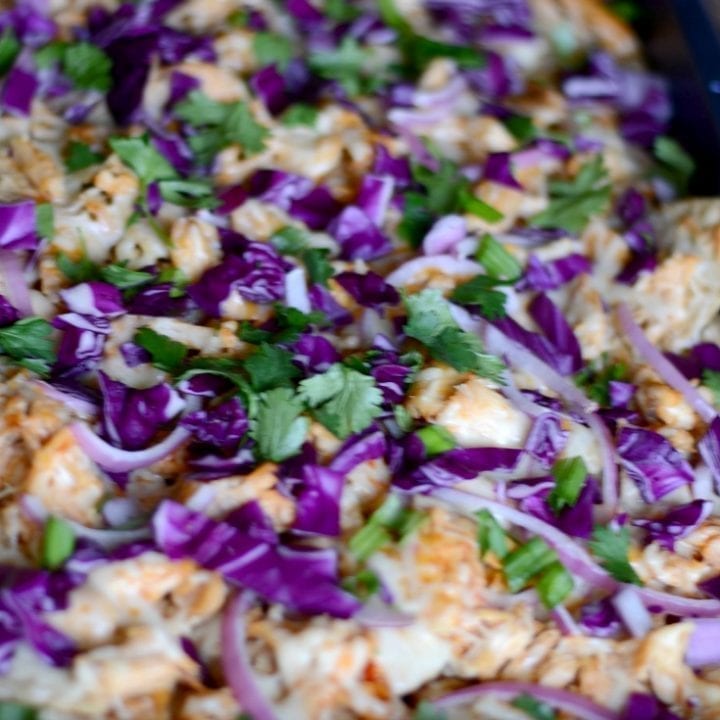 Crock pot firecracker nachos
Ingredients
1/2 cup vinegar
1 1/2 tbsp sugar
1 tsp salt
1/4 cup shredded carrots
1/2 cup shredded red cabbage
1/2 cup shredded Napa cabbage
3/4 cup buffalo sauce
1/3 cup Thai sweet chili sauce
3 tbsp honey
1 tbsp soy sauce
1/4 tsp red pepper flakes
1 1/2 pounds boneless skinless chicken
1 bag (13 oz) restaurant style tortilla chips
1 cup shredded Monterrey Jack cheese
1 cup shredded Sharp Cheddar cheese
1/4 cup pickled jalapenos
1 green onion, thinly sliced
1/2 cup cilantro leaves
lime wedges, for serving
Instructions
In a medium bowl combine the vinegar, sugar, salt, carrots and both cabbages. Mix and place in the fridge until the nachos are done cooking.
Combine the buffalo sauce, sweet chili sauce, honey, soy sauce and red pepper flakes. Pour into the bottom of the slow cooker and nestle the chicken on top. Use a spoon to cover the chicken with the sauce. Cook on low for 3 to 4 hours. Transfer the chicken to a cutting board and shred with two forks.
Line a baking sheet with foil or parchment paper and arrange the chips on top. Top with half the shredded chicken and then half of each of the cheeses. Top with another layer of chips and repeat the toppings.
Broil or bake (I baked mine at 400 for 8ish minutes) in the oven until the cheese in melted and bubbling. Remove from the oven and top with the cabbage mixture, jalapenos, cilantro and lime wedges. Drizzle extra marinade over nachos.
Enjoy!
Notes
The recipe is directly from the cook book. I added half a sliced onion to our nachos.
This post contains affiliate links.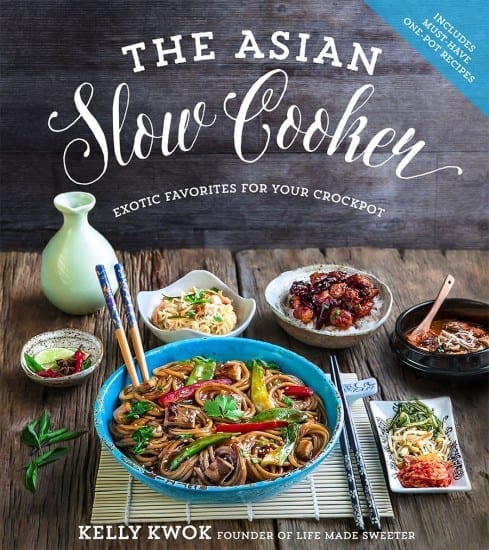 The Asian Slow Cooker was officially released on November 8th!
You can order your copy at any of these fine locations:
AMAZON, BARNES
and NOBLE, INDIGO, BOOKS- A- MILLION, INDIE BOUND
and wherever books are sold.
Be sure to tag @lifemadesweeter on your social media or use the
hashtag #theasianslowcooker with your photos of the book or any
recipes you make.
The cookbook includes:
80 delectable ASIAN dishes and desserts that can be made
either in the SLOW COOKER or just ONE POT
a mix of classic favorites, fusion and exotic
meals with healthier than their restaurant counterparts
waiting for you right when you get home
recipes to suit various tastes: vegetarian, sour, spicy
and sweet
slow cooking tips and ingredients for stocking your pantry to
make authentic Asian cuisine and,
a full-color photo for every single recipe!
_________________________________________________________________
CHAPTERS INCLUDE:

Ditch The Takeout, 5 Ingredients or Less,
One Pot & Skillet Meals, Skip the
Stovetop, Fiery Favorites, Meatless Mondays,
Sensational Soups, Delectable Desserts and
Slow Cooker Basics & Tips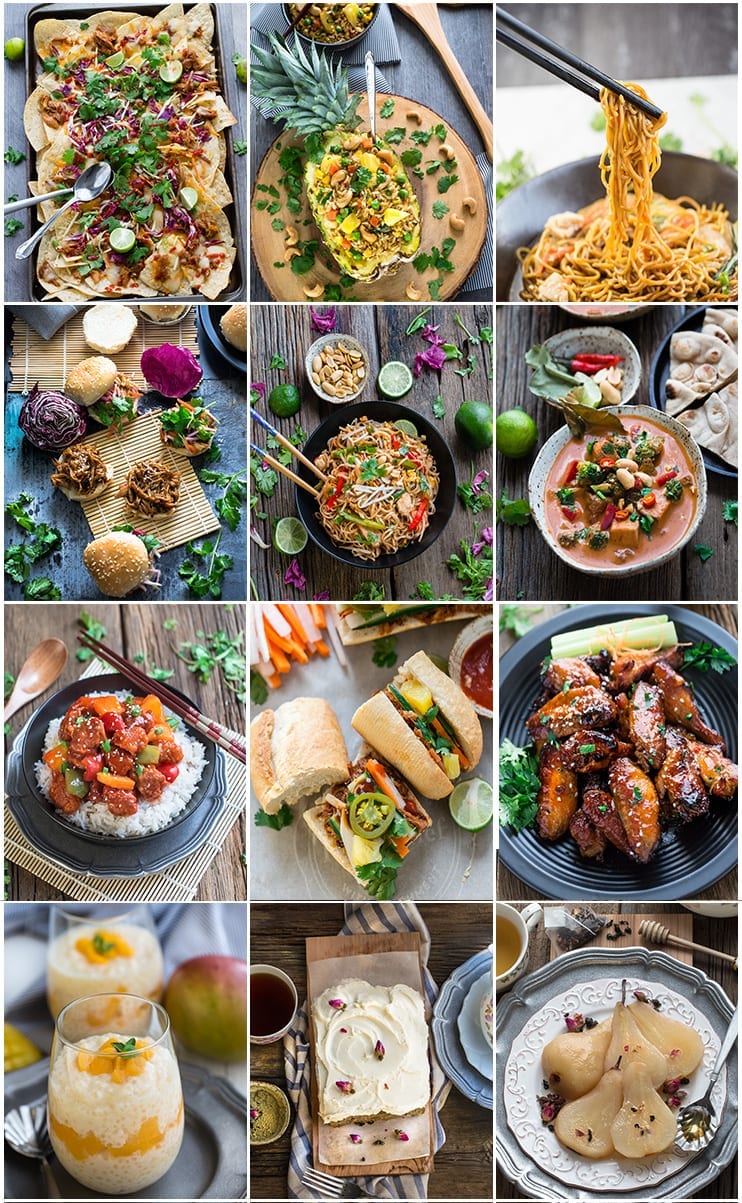 ________________________________________
Today we are celebrating the ONE week release of the book with a great giveaway!
Just enter your info in the Rafflecopter below or click
HERE
to take you directly to the
GIVEAWAY FORM
.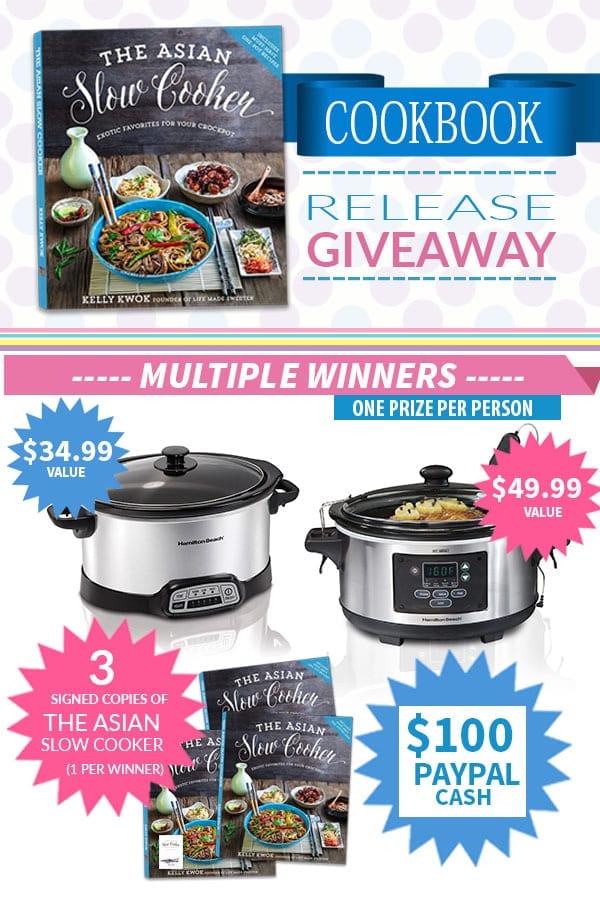 There will be multiple winners – one prize per winner.
Here's what's included:
1 x
Hamilton Beach 6 Quart Slow Cooker
(retail $349 US) (1 winner)
1 x
Hamilton Beach 5 Quart Slow Cooker
(retail $99 US) (1
winner)
1 x $
100 PayPal
(1 winner)
3 x signed
The Asian Slow Cooker
cookbook (3 separate winners)
TO ORDER THE ASIAN SLOW COOKER, CLICK ONE
OF THE LINKS BELOW
Thank you and good luck everyone!!