Welcome to our second Financial Friday!  Last week we talked about the golden rule of personal finances, know your credit score.  Today we are going to go over a few simple tricks that will help you improve your credit score.
First here is how your credit score is determined.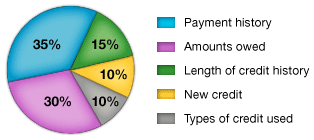 A major part of your score is determined by your payment history and the amount of debt you owe.  The length of your credit history, credit mix and new credit make up the rest of your score.  For more in depth information on each of these topics 
click here.
So how can you improve your score?  By following these 4 credit tips.
1. Obtain your credit report and make sure the information is correct.  
In order to improve you score its good to have an idea on where you stand.  Your credit report will list out all your debt, your payment history, your negative records (collections) and who has requested to see your report.  If there are discrepancies on the report you must get them corrected in order to raise your score.  The
Federal Trade Commission
has a great letter that can be used as a template to send to creditors requesting more information on the discrepancy and how to resolve the issue.   Keep in mind that although paying a collection does not remove it from your record, it does show as paid.
2. Pay your bills on time
The biggest factor in determining your score is your payment history and it makes sense that the more on time payments you have the more likely your credit score is to increase.  Creditors are looking to see if you are able to meet the financial responsibility of borrowing and your payment history is a huge contributor of their decision.  If you have trouble paying your bills, set up reminders or have them automatically withdrawn from your account.  In this case its better to have an overdraft fee because your bill was paid then to have it hit your credit report.   (Note that once your payment is more then 30 days late it is added to your credit report and will stay there for 7 years.)  
3. Keep unused accounts open 
So you haven't used that Discover card in years?  Might as well close the account, right?  Wrong!  The longer you have had credit the more positive it reflects on your credit score.  When you get your credit report it will tell you how long (in months) your oldest debt has been open.  Make sure to never close that account because it will adversely affect your score.  
4. Keep credit card balances low 
If your credit card balances are more then 35% of your limit then it can hurt your score.  For example, if you have a credit card with a $1000 limit, anything over $350 can harm you.  I would suggest paying down your card with the highest balance in order to boost your score, even if you have to transfer to a card with a lower balance.  
Do you feel your score getting higher?  Follow these four tips and I bet you see a change the next time you check your score.  See you next week when you discuss simple ways to save!  
Disclaimer:  I am not affiliated with the websites in this post.  I am also not a licensed professional, 
any information here is based on my knowledge and research and is subject to change.  
Any question I can not answer will be directed to the appropriate authority
.